This is nothing about Thailand, but I can't help but dedicate a blog post to Mr Harry Redknapp, the Spurs manager who just guided Spurs to their first chance in Europe's premier competition. The great thing is, no one can say they did not deserve it!
-
I have been an ardent Spurs fan since the glory days of 1991 (boy am I old), when Paul Gascoigne and Gary Lineker dazzled me with attractive football yet precious little end result in terms of silverware. Over the years, good football has continued, and great stars came and left. Jurgen Klinsmann( twice), Teddy Sheringham (twice, forever my greatest hero in football), David Ginola, sicknote Darren Anderton (who seems to play more for England than for Spurs), Dimitar Berbatov etc., but aside of a few Carling Cups and a couple of commendable 5th place finishes (plus some relegation struggles), there's really nothing much to brag about.
How times have changed since Mr Harry came in 18 months ago! Spurs were entrenched at the bottom of the table with 2 points from 8 games(how was that even possible in the first place), and he took them to 2 points away from an Europa league place after 38.
-
This season, everyone knew what happened. In fact Spurs managed to beat Liverpool, Arsenal and Chelsea back-to-back and their arch rivals Manchester City twice to qualify for the Champions' League.
-
If a Spurs fan like me was allowed to dream, my dream would probably look like this: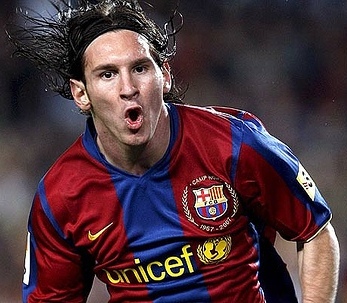 Nah, I am not dreaming that the naked Ronaldo would wear the Spurs jersey next season, just that I would see Ronaldo and Messi trotting about on White Hart Lane's turf trying to beat Spurs during a Champions' League match at 3am in the morning playing for Real Madrid and Barcelona respectively. Hopefully Spurs would exorcise any devils blocking their way during the qualifying round and make my wish come true.
-
Back to Redknapp. He's everything a Spurs fan could ask for. Tell me which decision he made wrong:
- Selling Darren Bent, letting him score 24 goals in the league including 2 against us, but still failed to stop us from qualifying from the Champions' League (he would never have earned that England call-up of he stayed, talk about win-win)
-
- Buying awkward looking Crouch, who only scored 8 league goals before scoring the clincher against Manchester City in the most important match I've watched as a Spurs fan (that one goal was enough to vindicate his purchase)
-
- Buying back Robbie Keane on the cheap from Liverpool to save Spurs from relegation then shipping him to Celtic when he is starting to get frustrated sitting on the bench this season
-
- Buying Niko Krancjar from Portsmouth for a mere 2.5million pounds and allowing Spurs to survive Modric's broken foot.
-
- Giving Wigan a 13 million pound profit on Wilson Palacios who has become Spurs grit and steel
-
- Mocking yet not allowing Roman Pavlyuchenko to leave Spurs which resulted to him scoring 10 goals in 8 games after the closure of the January transfer window to soften the loss of Jermaine Defoe due to injury.
-
- To unleash Gareth Bale as a left winger and not a left-back, allowing Luka Modric to run riot as a playmaker in the center of the park. More importantly, letting Bale steamroller past right-back and right-back and score consecutive winners against Arsenal and Chelsea to cement 4th spot.
-
- To secure the future: Huddlestone, Dawson, Lennon, Modric and Bale, and the experienced heads Ledley King + Carlo Cudicini on long-term contracts.
-
- Motivating Spurs to play so well that they have the most representatives in the England World Cup squad (6 to be exact)
-
- Maybe his most important decision in the long term was to keep faith with Gomes, who has turned from a joke to an absolute rock between the posts, keeping 14 clean sheets and a league's lowest number of home goals conceded.
-
Furthermore, unlike other clubs who are facing major debts or going into administration, Spurs are so well-run that they are churning in huge profits every year (think Berbatov, Keane and Carrick to understand why) even though they are continuously strengthening themselves with expensive inputs every season (without any Sheikh, Russian or Thai runaway-PM's billions)
-
Now that Spurs are in the Champions League, it has opened the horizon for them to attract a couple of real big names to the Lane and further strengthen their already impressive squad.
Come on Messi and Ronaldo, come strut your dazzling skills next season. Spurs will be the huge underdog to get anything out of their Champions' League adventure, but:
-
1. With Gomes, Corluka, King, Dawson and Ekotto protecting the goal
2. Palacios biting at your ankles and Modric conjuring magic in the middle of the park
3. Aaron Lennon and Gareth Bale DESTROYING your fullbacks
4. Defoe and Pavlyuchenko feeding on any mistake made by your defenders
5. Huddlestone, Keane, Bentley, Krancjar, Crouch, O'Hara, Bassong brimming with confidence waiting to come on and cause damage
6. And any other top class expensive new signings Spurs are surely going to bring in before the start of the season
7.